After-School Athenaeum
After-School Athenaeum is focused on the liberal arts and promotes learning by providing students dedicated homework time in addition to a diverse array of culturally enriching, academically oriented activities beyond the classroom. Our activities and lessons are aimed at improving students' scholastic performance by reinforcing the lessons, virtues and curriculum of the classroom.
But it's not all academics! Athenaeum scholars also enjoy time for recreation, games, socializing and just plain fun. Athenaeum runs daily from the dismissal bell (even on early release and half-days) until 6:00 p.m. Flexible and affordable options are available to fit any family's after-school needs.
*The Athenaeum (ath-uh-nay-uhm) was originally a school in Rome, founded by Emperor Hadrian in 133 A.D. for the promotion of literary and scientific studies.
Registration is now open for the 2020-21 school year. After-School Athenaeum will resume when in-person learning resumes at the academy.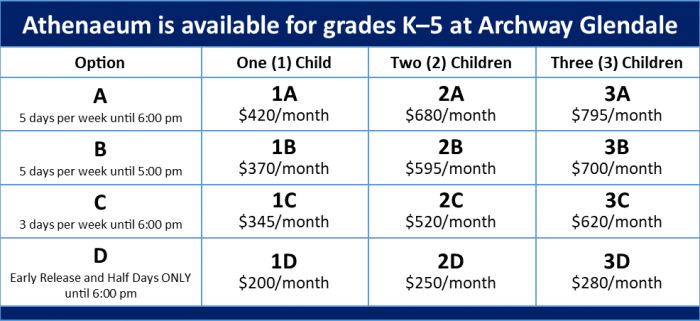 Register for After-School Athenaeum
Questions? Please contact the Campus Coordinator, Stacy McIlvain, at Programs.Glendale@GreatHeartsAZ.org or 480-560-9782.
You may also refer to the Frequently Asked Questions at the bottom of this page.
---
Glendale Homework and Enrichment Club
Not offered during 1st or 2nd quarter/More details to come
The purpose of the Archway Glendale Homework and Enrichment Club is to provide scholars an opportunity to start homework in a safe environment with an Archway teacher after school. Instead of waiting in the long pick-up lines, scholars will take a much-needed break at the end of the school day for snack and play. Students will then begin focused, silent study.
Register for Archway Glendale Homework and Enrichment Club here.
Club pick-up times: 3:30-3:45 pm on regular days. 12:30-12:45 pm on half days.
*Early release and half days included.
Q.

I already registered my child for Athenaeum. What will happen with my account until we return to in-person instruction?

A.

In response to delayed in-person start dates for academies, the Great Hearts Athenaeum After-School Program will take the following actions on accounts:

*The amount paid upon registration is applied to the first month of in-person Athenaeum attendance.
*If the first-month fee amount needs to be adjusted for any reason, the Billing Specialist will communicate these adjustments directly with the account holder.
*All automatic billing will be suspended until in-person instruction resumes. Automatic billing will resume for the second month of attendance and beyond.
Q.

I registered for Athenaeum but will not be returning to campus for in-person instruction. Who do I contact about my account?

A.

If you enroll your child in Distance Learning, or will not be returning for in-person instruction for the duration of the 2020-21 school year, or have any questions regarding your account, please contact the Billing Specialist at Programs@GreatHeartsAZ.org or 602-396-7574 to make any necessary adjustments to your account.
Q.

What safety protocols will be in place during After-School Athenaeum?

A.

Just as during the day in the academy, you will see increased safety measures for Athenaeum such as:
• Daily health screenings of all our Athenaeum teachers
• Smaller group sizes in the classroom and on the playground as well as snack time inside the classroom to help limit group sizes
• Increased sanitization measures after the school day before scholars enter classrooms for After-School Programs
• Increased hand washing and sanitization
• Increased measures to limit supply sharing between scholars
• Modified check-out procedure to allow for social distancing
Q.

Is tutoring provided during After-School Athenaeum?

A.

No. Athenaeum is not a tutoring program. We provide supervised homework time that includes teacher-led Spalding dictation for the applicable grades.
Q.

Is a snack provided for After-School Athenaeum?

A.

No. Scholars are given time to eat a snack. However, we are not able to provide the snack. We encourage you to pack a snack specifically for the after-school program daily.